Tennis Academy:
There are many skills involved in the sport of tennis. Focus on footwork is very important combined with the correct techniques to recover so you're able to change directions quickly, make fast decisions, and avoid injury. Tennis is one of the most popular individual sports in the world producing gripping action and phenomenal athletes throughout the years.
N Zone's Nugent Academy tennis coaches produce an ideal mix of youth and experience in every aspect of the court. We have in place a comprehensive, up to date, and highly regarded training system.
The kids are taught the fundamentals of tennis (serve, rally, score) and that the ball must be kept in play! As they progress their training becomes more technically advanced, and strategic.
We offer specific training to particular age groups and individuals: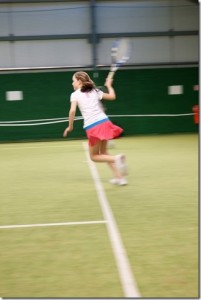 Mini tennis (ages 3-5)
Midi tennis (ages 5-8)
Tennis tens (ages 8-10)
Competition and club level
High Performance (the top of the tree)
Senior tennis
Our senior tennis programme has been designed to cater to any level of skill, for absolute beginners who would like to start playing tennis right up to club level and international competition players who want to develop and improve their game.
Even if your goal is just to get fit through sport, our fully qualified coaches will guide you through every step of the way ensuring that you achieve your goals and have a great time!
The game is a superb form of exercise and recreation with many levels of play in tournaments all around the world and has proven to be a great spectator sport.
Tennis is proven to:
Lower resting heart rate and blood pressure
Increase bone density
Lower body fat
Improve muscle tone, strength, and flexibility
The sport is a tactical game that transcends age groups and is enjoyed by young kids, adults, and senior citizens.
The training is available 5 days a week and each class receives one hour of expert coaching.